It's been just a whirlwind since Friday!! I had work as usually then I had to rush home where James was bringing home our new couch and then heading off to the school for the girls orientation as well as running to my bunco games afterwards!
Back to the couch I'll say the couch is new to us, my Aunt and Uncle were getting a new one and asked if we wanted their old one. Well Sure! We'd been wanting to get a new couch but I was holding James off until Aaron was about 5, so that way it was at less risk! Anyway it's an awesome couch and I love it!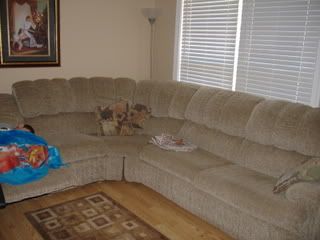 Aaron seems to really be sold on it too! He's using it to it's fullest!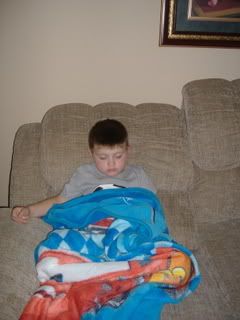 On another note I did want to keep our old couch and put it downstairs, it was an awesome couch to sleep on! BUT, when we tried to get it into the basement we couldn't even get it down the stairs it was so big...so right now it's sitting in my backyard....yes I know and I don't want to hear any hick Kentucky jokes, James said tonight he feels ghetto! My dad is suppose to take care of it for me sometime this week.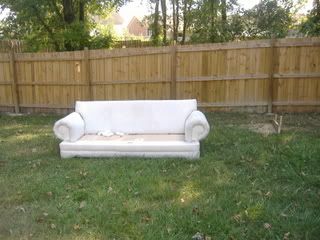 Our garden is about done! Things are starting to die off, we didn't do well our tomatoes this year, but it's a live and learn experience, we thrived in zucchini though and did pronounce 1 good size watermelon!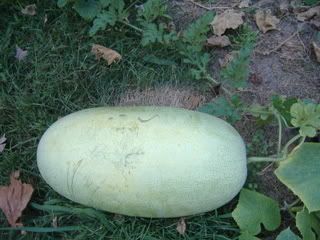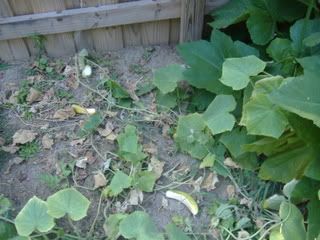 Aaron is the child that is back home! Well he did beg last night to go to stay the night with Granny and Papaw so we dropped him off about 8:30 last night and then we went over to some friends house to have a couple drinks and just hang out! The Strawberry Daiqueries really hit the spot! And then we got Aaron back first thing this morning when he woke up!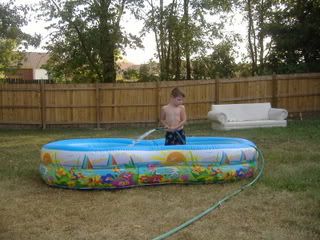 We've had a nice afternoon and evening , the heat has let up some so we spent some times in the backyard tonight! James even put some water in the pool and him and Aaron had a water fight. I think Aaron won, because James was wetter than him!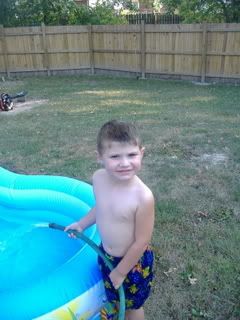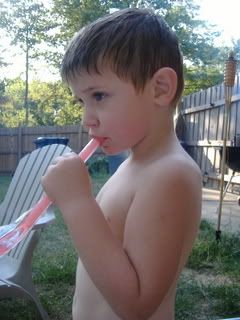 This was James form of outside air conditioning!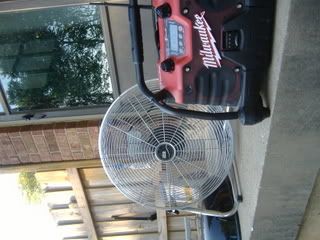 And why do I feel like it's too early for the leaves to have started to turn already! Before we know it it's going to start getting cold outside! Honestly Fall I think is my favorite time of the year, I use to have a hard time deciding between spring, summer and fall, but I associate more fun things with Fall....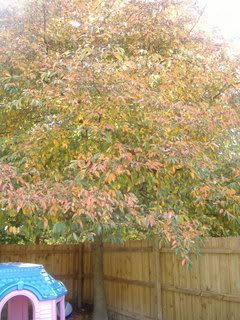 Aaron's been so fun today this weekend, he's really been listening well and been a good boy! He's getting so big I was just watching him tonight, he's a riot....tonight after he took a shower he goes I need my comb and brush please, it's blue. So I got him that and had to take a few pictures and then he goes, "Um could you please stop that"....well he was at least polite about it, but he already is getting tired of mom and the camera!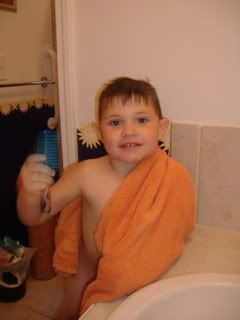 Well I guess I'm off to the couch to snuggle with my boys! The girls will be back home tomorrow and I'm sure I'm in for a busy day because they start school on Tuesday! So tomorrow night will be preparing to get ready for their first day of school. I am just in awe....my kids growing up way to fast!