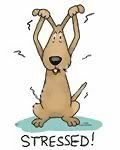 Okay well it's a little blurry, but this is how I'm feeling! EEK! I told you all I would be regretting not staying up last night and getting the majority of things done and YES I am!!!!!!!!
I'm a big bundle of stress!! Frannie poo says I'm wonder woman and will pull it off like I always end up doing...and since such a wonderful lady has faith in me it's calmed my cranky butt down! But I sure do wish I had that cape and super powers....even a maid! Oh well.....
I'm off no more computer time for me til I get more accomplished.....so hopefully you'll hear from me tomorrow, telling you how wonderfully everything went and showing you some pictures!!!
Have a great Saturday!!!!