Today is day too! Sorry I didn't post on day one, I'm just not sure who was more tired...me who was in bed by 9:30 last night or Chasity who was asleep sitting up on the couch when James got home at 5!
They had a good first day, Brie's excited cause she gets to sit by her friends Hannah S and Tete (Really Terrian) in class. And mom is excited cause the bad influence (who Brie just had to be best friends with) is no longer going to the school! Chasity had a good first day too. She said she sits near Lauren, even though Jeremiah and Charles are next too her but that's okay cause she knew them from last year! She's also made friends with Hannah G....who is the new Hannah in her class! Thank God that in each room one Hannah is blonde, one Hannah is brunette! Makes it easy to remember who is who!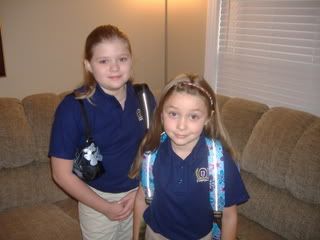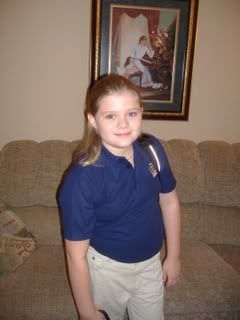 My routine has gotten totally off with the girls back in school! My last two mornings have been a little crazy with me always feeling like I forgot something! This morning I was freaking that I left my straightener on.....I couldn't remember turning it off.....so what do I do but call my mother, who was going to the dentist anyway to go to my house and check and make sure it was off! Yes it was, but I wouldn't have made it through the day without worrying, thank God for retirement! And thank MOM!
This one of Brie is kind of blurry , I think the climate change from outside to inside the school fogged up my lense, and I didn't notice it!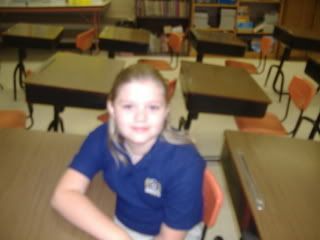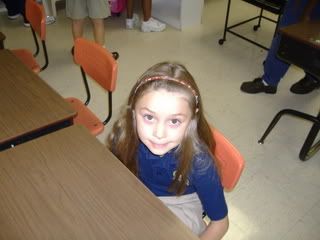 I'm still just having a hard time fathoming the fact that I have a 4th AND 1st grader! They are growing up way too fast!!!
We've decided to go to Kentucky State Fair on Sunday with his family......So that should be an adventure!!!!! But I'm looking forward to it with the kids!!!