Today we decided to venture to the Ky State Fair with James parents , My BIL and SIL, and my niece. It was sure hot!!! But I love the fair! There is just nothing like it, I mean it's really a lot of nothing but it's just it's the fair!
First when we got there we had to go see Farmer Freddie!!!!!
Then we went to see the animals! One of my favorite parts is going to see the cows and all their names! I love these cows at fair time!
And of course the kids had to pet goats
And Rabbits
And chickens and ducks, a llama, pigs, I love the animals!
Then we took the kids to ride some rides and a few games.....James won Brienne a stuffed penguin, and All the kids won small stuffed things....I myself indulged in two pineapple daiquiris that were quite yummy!!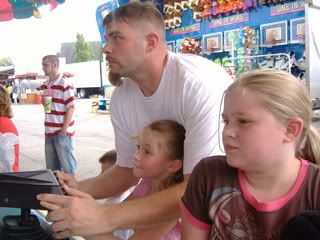 And how could I forget the food!!!!!! I love fair food!!!!! Mmmmmmm.....the smell of corn dogs, pork sandwiches, cotton candy, Carmel apples, Grater Tater, Funnel Cakes, Bratwurst, you name it, they have it and I love it!
I was very very good this year....all I had was 2 small bites of James pork sandwich, 2 bites of Chas' corndog, and two pineapple daiquiris....that's it.... I came home and ate a cup of potato soup and had a sm grilled chicken salad. And it was so hot today I guess I wasn't really feeling it...so that means I've done well on my diet today!
As we were headed back toward the air conditioning, I happened upon a little pond! Normally I probably wouldn't have paid it much mind...but honestly it reminded me of Hannah...so I decided to stop and take a few minutes and enjoy the pond with the kids! Aaron was in the middle of a meltdown though (and refused his picture) so we trudged on into the air conditioning...which as soon as we hit it I heard Dancing Queen playing for a group that was performing and thought well Hannah really is all around! If you haven't had the chance to meet Hannah...
Please enjoy a Hannah story she is an amazing little girl and her wonderful Mama who will share her with you!
When we got inside we went and stood in line for this HUGE blowup slide and obstacle course that the kids just HAD to stand in line 30 minutes to go through! It was sponsored by the Ky National Guard and they took our picture before the kids went up! Which should be online in 24 hours (I'll show it to you later), after that we stopped at this awesome balloon display and then we met the Looney Tunes Characters, Chasity had to had to see Tweety because he is her favorite and Aaron had to high five them all!
The kids also go to get into a real cop car in the back and front seats, Aaron thought that was awesome and then they had a cute little kids cop car that Aaron loved too.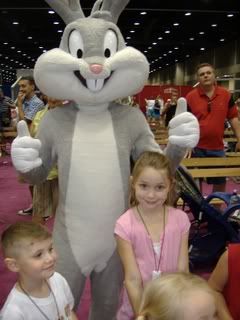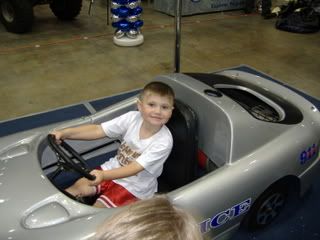 It was a really good day! Though toward the end Aaron and me were both very cranky and I was getting impatient (patience is not my virtue) and I was being a big butt and I had that, I really do I hate it when I let my irritability show through to the kids, hate it and it makes me feel crummy! I've been doing a lot of work on me lately...and I've had to cut myself a tiny bit of slack...I don't do it on purpose I don't want to be like that, but I guess that's how my personality is...doesn't mean I'm not working on changing it, I just need to keep trying.
I guess I've just been thinking and doing a lot of self evaluating lately and I don't like some things and I'm changing them....
Now that we have all gotten home and everyone is settled for the night and the only decision I have to make it curling up on the sofa with James and finish watching this football game or go ahead and get in bed and read a bit...I think that the kids will remember how much fun we had together today and all we did and probably the 10 minutes I was super cranky they will forget!
All in all it was a good weekend!