My life has been so nutty the last couple weeks, we have still just been exceptionally busy!!
Last weekend was my dad's family reunion at their house, so I spent all three days, or well the majority of them at my parents house with all my dad's cousins and my 2nd cousins and their children. It was really nice getting to see some of them again, we hadn't seen some in about 7 years. Plus I think it was really nice for my grandpa, they were his sisters children and him and one of his sisters, who couldn't come because she has Alzheimer's and lives in Illinois are the only ones still living.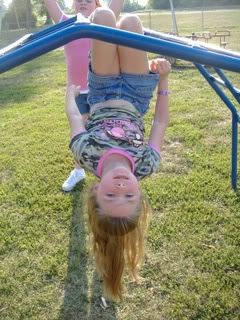 My kids had stayed out there all weekend, even when we left, because all the girls...and I mean there were only girls! The only boys are like 19 and 15 and they didn't stay my moms, but there were good lord, a ton of girls, Melissa, Meghan, Mariah, Brienne, Chasity, Genna, and Angel and of course Aaron who was eating up the fact that he was the only boy and wanted to marry Melissa, until Melissa told him they were cousins and that they couldn't get married but he could be her body guard!!!
I'm really sad I forgot my camera but the cousins took tons of pictures and I'm sure I'll get some of them! Since they brought a disk with pictures on it from when they were little and their children were little! I even have some pics of my dad now when he was a child. My grandma has only had 1 since I can remember, she doesn't know what happened to the others.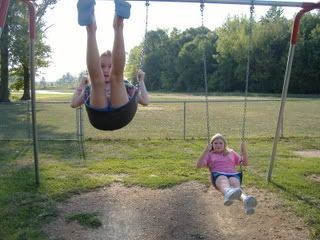 Monday when we brought the kids home, we went ahead and let Aaron have his bike for his birthday because we wanted to take the kids up to the church to ride, Brie's outgrown her bike though and needs a new one and Chasity's tire was flat and we have to replace it, so well they scootered and Aaron rode!!!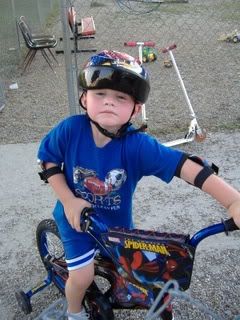 There are pictures from that day throughout this post......
And today is Aaron's 4th birthday party, tomorrow is his birthday! I can't believe my baby is 4, it seems like just yesterday I was having him. I can't explain it, but my love with Aaron is different than the girls, I love them all just as much, but well like I said I can't explain it!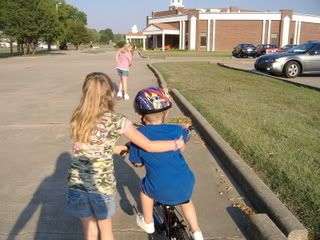 I'll make sure to get on tonight and post pictures from his party today!!! Because we have another busy day tomorrow, my company picnic is at Kentucky Kingdom tomorrow, JHSMH rented out the whole park, so that should be fun!