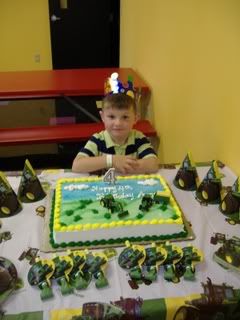 My Baby is turning 4 today!!! It doesn't even seem possible to me that it's been 4 years. He is such a blessing to me! I honestly didn't know how I was going to do it when I got pregnant with Aaron. I cried and cried because I didn't know how we would handle a third child. BUT apparently God knew we could and knew that it was meant to be. He's gotten so big in the last few months. He's learned to spell his name, he can count to 20, his vocabulary and the conversations he has now are just amazing. He is so easy to reason with and he comprehends a lot more than I remember the girls did at that age.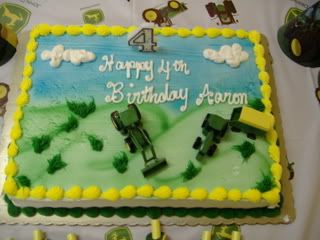 We had his birthday party yesterday at Puzzles FunDome, and he had so much fun and loved it! Aaron is obsessed with Tractors, actually Aaron is obsessed with lots of things, anything with wheels, animals, balls or sports, it's so funny, in the last 6 months his room has just exploded to look like a little boys room!!! But anyway he choose the John Deere theme for his party. Cause a tractor is not a tractor unless it's John Deere!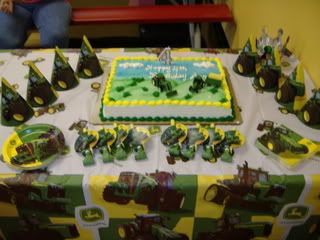 The kids had a blast and the adults had fun too, we ordered pizza and breadsticks and drinks for everyone and then we did presents and the cake!!!!!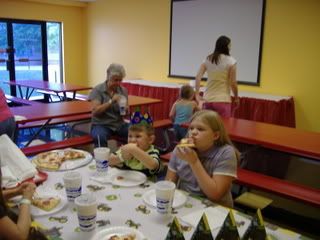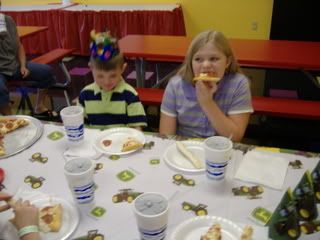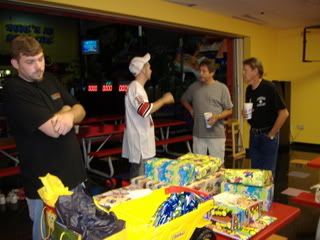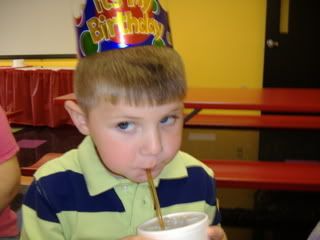 Aaron got so many presents, my living room was filled yesterday evening!!!! Thankfully Chasity loves to un box things and she did the majority of the un boxing for Aaron!!! I'll try to remember to recite everything he got!
We got him his Spiderman bike he got on Monday, a Imaginext Pirate Ship, A HUGE dump truck, Lincoln Logs, The ESPN Fisher price Better Batter set, I got him monster tractors, He got a Tonka tow truck he's been wanting, we also got a bunch of little stuff, construction worker people, 3 little motorcycles that he can play with, small hot wheel size tractors and farm equipment, littlest pet shop go fish cards, a new tool set that included his tape measure he'd been wanting! My parents got him some movies and the Imaginext Jungle. My in-laws, my grandparents, my uncle all gave him money. My BIL and SIL gave him a #12 Louisville Cardinals Brian Brohm football jersey he is in love with. My Aunt and Uncle got him some Huge Color wonder coloring posters and a rocket for outside, his friend Adam got him 2 outfits and the Imaginext Dinosaur.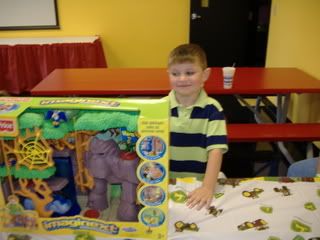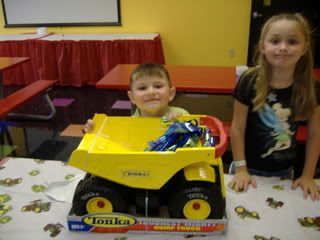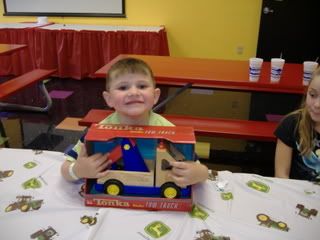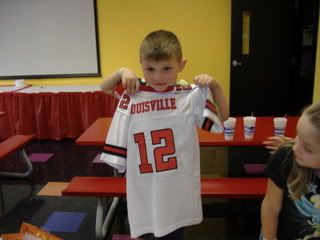 Then we sang Happy Birthday and cut his cake!!!!!! It was so so good!!!!!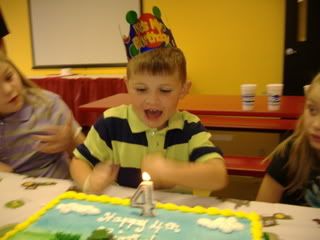 And then let the playing begin!!!!! Puzzles is awesome, they have the game room, the have those huge blow up slides, and bouncers, they have a miniture golf course, they are building one of those tube tunnel things like they have at Mickey D's and Chuck E Cheese, they have hoops, a movie theater, an art room. They have a ton of stuff for the kids to do!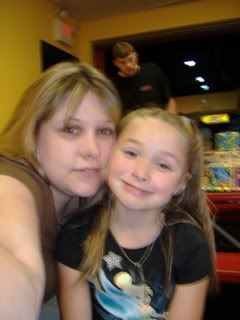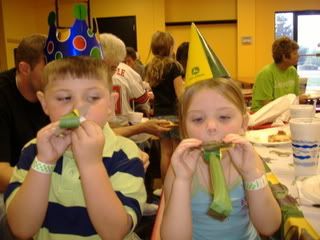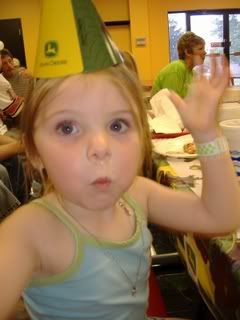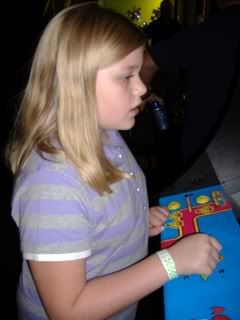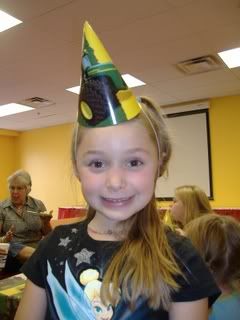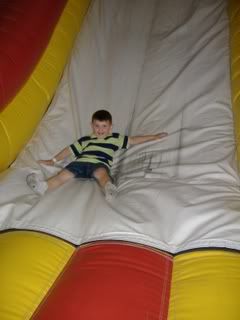 I ran to the grocery store last night later after we got home and I left the kids home, Aaron told me to find him some stuff for his jungle but don't spend all his birthday money! lol So I called him from Walmart....he wanted another dinosaur and he wanted the lion family for his jungle! lol He's so cute! He has honestly played with all his toys every minute since he got home last night, til he went to bed at midnight and he's back at it again this morning. I guess he had a good birthday yesterday! Even though today is his real birthday! We are taking them to Kentucky Kingdom today for my Company Picnic, they've rented out that park for the day and are providing food and drinks. We are getting ready to get ready to go!