It was a late night at work so I decided tonight to let the kids make homemade pizza's!!! They totally love getting to make their own food!!! And they are pretty good about not making much of a mess! And it also gives us something to do together when we are short on time and I'm tired!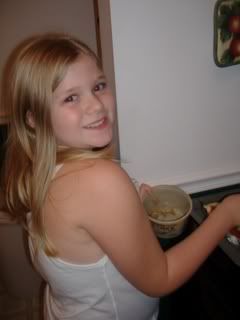 A few sprinkles of cheese on the floor by Aaron was not to shabby!!!! I think I need to come up with more things for the kids to do to help with dinner, because I'm tired of pizza!!!!
Of course chaos reigned the house while we were waiting for the pizza's to get done! So I decided tonight was dress up night, for a special project I have in mind! So they got all dressed up and we took some pictures!! Those I will save for a later post.
So after all that fun I'm about pooped out and for this night owl 10:30 is pretty early to be going to bed! SO I'm just waiting on Aaron to finish up his pretzel snack....and then I'm off to cuddle with James....well until a child ends up in our bed!